LOVE REPUBLIC presents a collaboration with the legendary Italian fashion house of ROBERTO CAVALLI. The top model Alessandra Ambrosio became the face of SS'20 advertising campaign.
The ROBERTO CAVALLI for LOVE REPUBLIC collection is the marriage of two brands with similar DNA. It presents the key trends of the new Spring-Summer 2020 season: animal and floral prints, natural materials and gold. The style of the collection is akin to both fashion brands: the looks convey energy, sensuality and glamour. Every woman can find a model accentuating her individuality and temperament.
Dresses with spectacular prints is a distinctive feature of ROBERTO CAVALLI, it appears in this collaboration too. Floral and piton prints have been specially designed for this collection made from natural materials. Asymmetric cutting makes the dresses dynamic and sharp.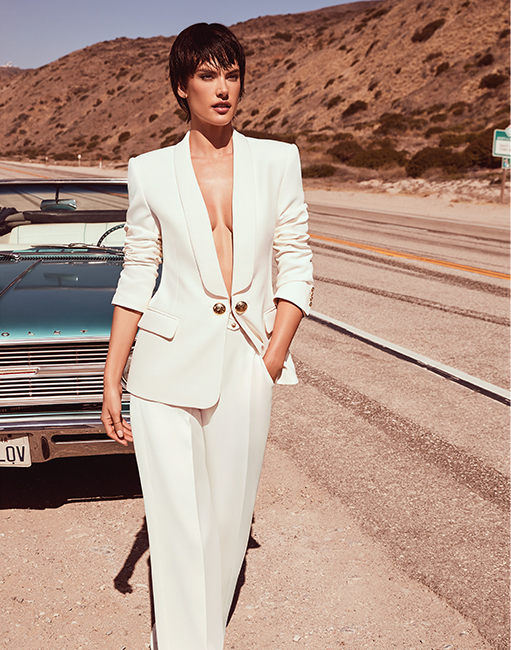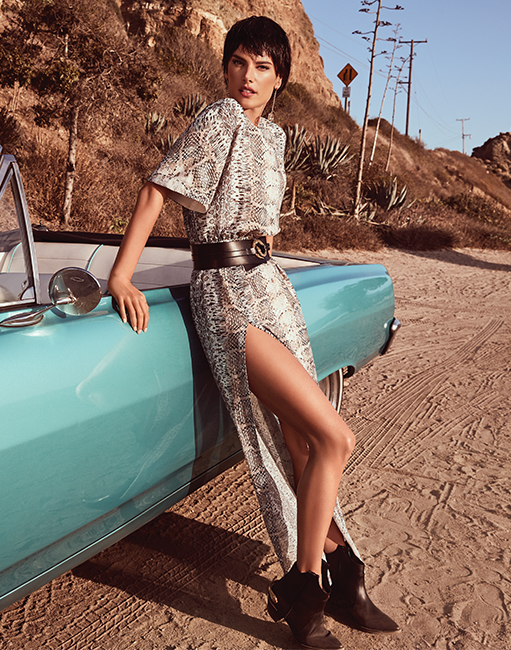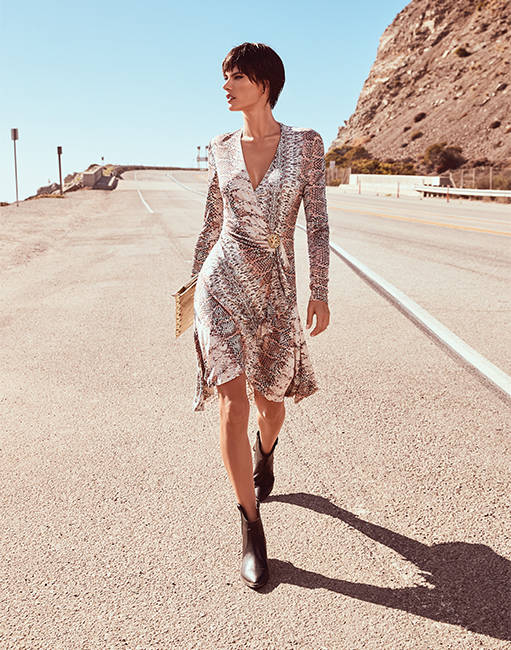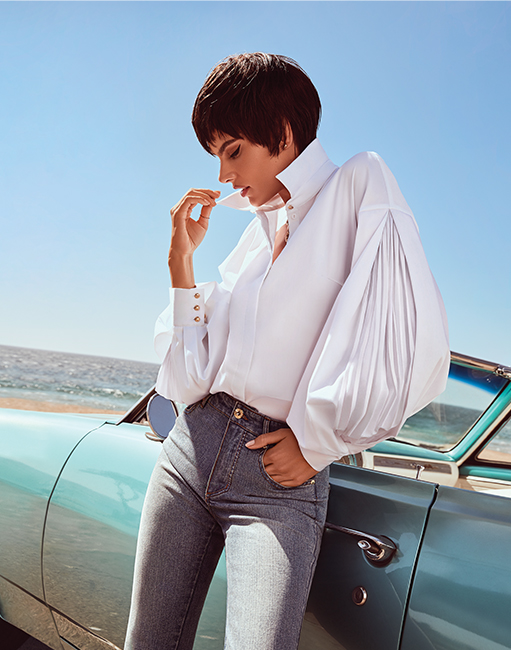 The chief accent in the collection is the trouser suit in white and in black, where the jacket has the signature ROBERTO CAVALLI shape. Its elongated silhouette and the still elevated shoulder line make the look both feminine and full of character. A distinctive feature of the model is the piton print on the reverse side of the jacket. The jacket can be complemented by Palazzo trousers, or pinched trousers, or crop-top trousers with side stripes decorated with the golden ROBERTO CAVALLI logotype.
The suit group does not overshadow blouses styled as Victorian and Boho. Volume silhouettes and buff-sleeves are another trend of the SS'20 season. The collection offers two jumpsuits: two different styles – two stories for every young woman. A classy black with open sleeves and long trousers is a party wear. A jumpsuit with shorts -the second model - is more universal and will suit different occasions. A special place in the two-brand collection is occupied by a black leather jacket with "à la grunge" embroidery inspired by the legendary ROBERTO CAVALLI model.
An oversize blue denim jacket with a gold metal décor on the back reading as the ROBERTO CAVALLI logo is in harmony with jeans and basic T-shirts with the brand print, this combination adding softness and variety to the collection.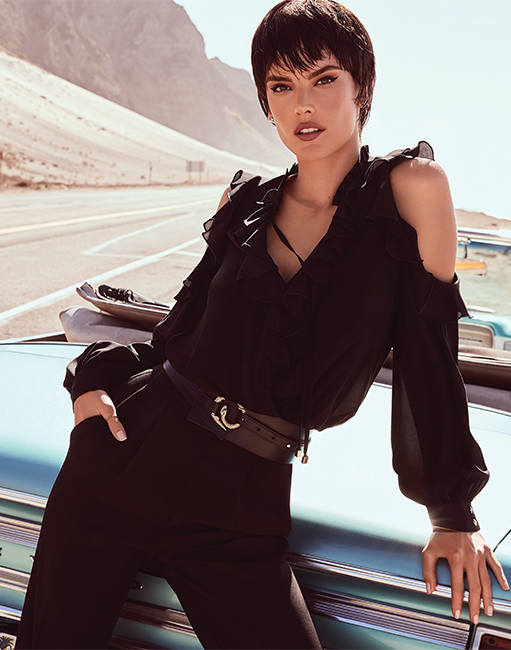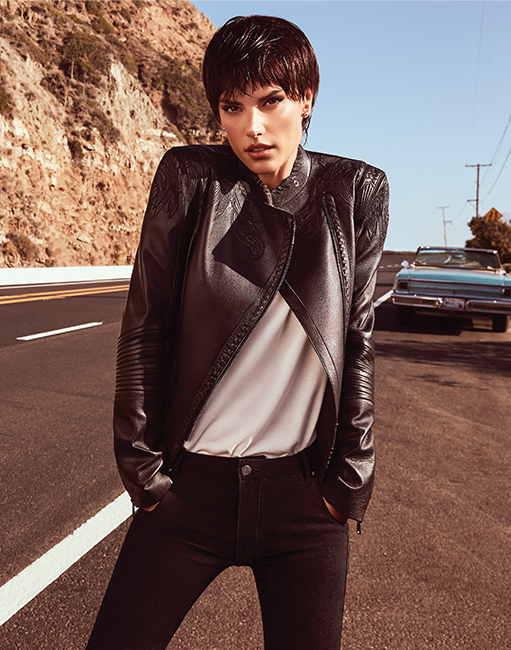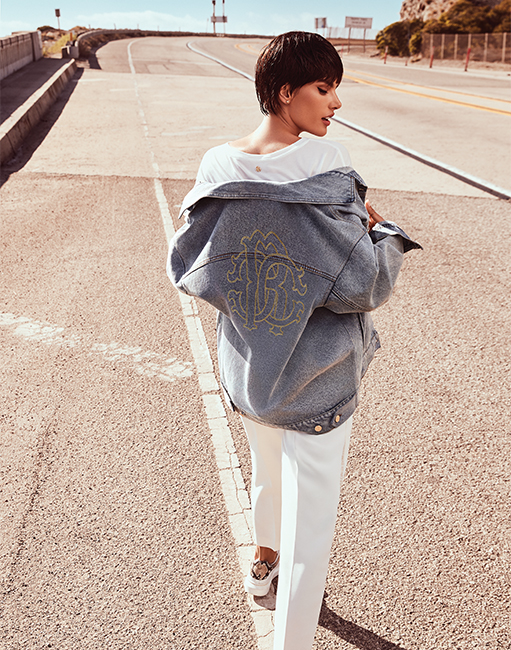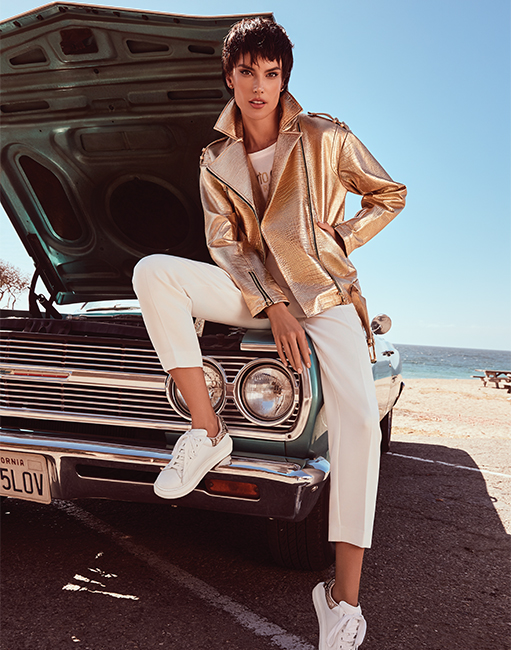 The most spectacular trend of the coming season – gold – in the ROBERTO CAVALLI for LOVE REPUBLIC collection is presented by a golden leather jacket textured à la crocodile and a compact clutch of the same design. Every model in the collection has branded edgings inside, as well as exclusive metal fixtures specially designed by Italian masters and painted royal gold, a typical ROBERTO CAVALLI accent.
Apart from apparel, the collaboration features basic natural-leather sneakers with a laconic animal decor and accessories: a shopper bag, a clutch, cross-body bags, earrings, a pendant, and a belt - in all of them, one finds the ROBERTO CAVALLI symbol – a piton specially designed for this collaboration by the creative director of the Italian brand Marco Lorenzetto.